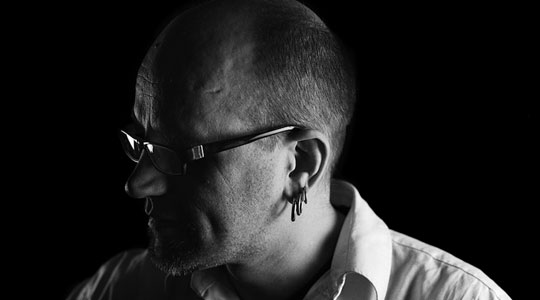 Alongside the peerless, timeless Monolake releases on Chain Reaction, Robert Henke is well-known for the music he has been creating under his own name since the early 90s: ambient, experimental soundscapes featuring material developed from or intended for an installation or performance in a particular space.
"Coming from a strong engineering background, Henke is fascinated by the beauty of technical objects, and developing his own instruments and algorithms is an integral part of his creative process. He builds and operates machines that create sounds, shapes and structures. His material is computer generated sound and images, field recordings, photography and light; transformed, re-arranged and modulated by mathematical rules, real time interaction and controlled random operations." (monolake.de)
Drawing inspiration from the opposing poles of techno and academic computer music, Henke and Gerhard Behles founded Monolake in 1995. From 1996 to 1998 Henke worked as a mastering and cutting engineer at Dubplates & Mastering where he cut many of the early Monolake releases.
As Monolake became more dancefloor oriented, Henke was releasing drone-based sound environments, explorations of sound and structure in the context of interactions between a sonic event and the space in which it happens.
Born in 1969 in Munich, Henke moved to Berlin in 1990 to study computer music at Elektronische Studio der Technischen Universität, followed by sound engineering at the Hochschule für Film und Fernsehen in Potsdam Babelsberg. Henke co-developed Ableton Live music software with Gerhard Behles, and his interest in performance of computer-based music had a significant influence in the development of the software. He launched his own imprint, Imbalance Computer Music, in 1997.
Since 2009, he has taught sound design at the Berlin University of the Arts, Robert Henke regularly lectures about music production, interface design, Ableton Live and composition of computer music in selected universities and conferences.