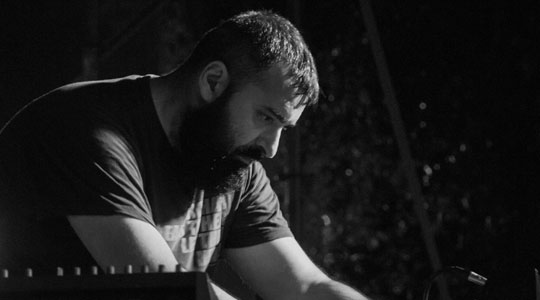 A Lebanese-born producer best known for his grainy, imaginative techno as Morphosis, Rabih Beaini's genuine musical ability and a range of influences from krautrock to new wave to folk music seep into his inventive, dark, and emotional productions. Increasingly steering clear of the techno realm in order to explore improvisation and new configurations such as with his Upperground Orchestra, Beaini retains an ongoing fascination with sound synthesis.
As Morphosis, Beaini has been crafting away in the nether-regions of the techno underworld since the 90s. Initially DJing, a move to Italy in 1996 proved the catalyst to start experimenting in the studio. And he really did experiment: few people craft the sort of emotional, imaginative techno as has Beaini for labels like Sistrum Recordings (Detroit), M>O>S (Amsterdam), and Styrax (Berlin). His two most recent albums, Albidaya (Annihaya Records) and Dismantle/Music For Vampyr (Honest Jon's), follow his critically acclaimed 2011 debut LP, What Have We Learned (Delsin).
While his productions join the dots between raw, elementary electronica and jazz, his Morphine Records label has put forward an equally avant-garde selection of techno from the likes of Madteo, Hieroglyphic Being, and Anthony "Shake" Shakir. Since the label's first release in 2005, Morphine has kept suggesting unexpected links between leftfield house and techno, avant-guarde electronics and free experimentation. Its carefully curated releases support a wide-open musical field without getting lost in its noise; every release is essential to Morphine's trajectory. In 2014, the label released the most comprehensive collection to date of works by US-based improvisational Buchla synth master Charles Cohen, as well as the brilliant Menjadi EP by Indonesian duo Senyawa. With a new release by Pierre Bastien scheduled for later in this year, there is even more to look forward to.