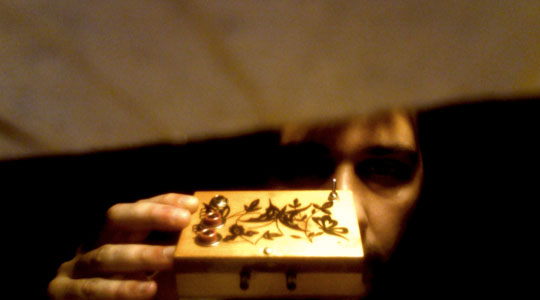 Daniele De Santis is a Berlin-based percussionist, drummer, and electronic music producer from Bari, Italy. Grounded in a wide range of studies concerning jazz drums, Mediterranean and Middle Eastern percussion, electronic music, and sound engineering, his work takes shape as a varied series of musical experiences driven by spontaneous multi-instrumentalism and an eclectic attitude.
De Santis has worked as a session and solo percussionist/drummer in the fields of contemporary jazz improv and chamber music for many years, all the while treading a parallel path in the electronic music realm, first through his MDF project and now via his most recent creature, GRÜN, the name for a peculiar cycle of productions, machines, and solo performances which De Santis has been developing since relocating to Berlin.
Driven by an enlightening first encounter with electromagnetism and its enormous potential as an engine for sound generation and physical automation, as GRÜN De Santis composes electronic music in terms of electrical circuit design and creation of modular sound objects. The GRÜN Machines have taken shape through studies and experiments focusing on electromagnetism as natural source and expression of life. GRÜN's performances are usually merged with real-time generative visuals, specially made and controlled by visual artist Davide Luciani. They have been hosted by international festivals like Berlin Atonal 2013 and STRØM Festival in Copenhagen.
The project's debut album will soon be out via De Santis' own Dromoscope label, the first chapter in a series of cassette releases. Founded as a reaction to the lack of space for experimental A/V electronic and electro-acoustic languages in Rome, Dromoscope first took shape five years ago as a series of namesake Sessions dedicated to electronic arts. The project was actively supported by a number of local artists such as Fabio Perletta (head of the Farmacia 901 label), Plaster, and Davide Luciani and gradually came to represent a likeminded collective and most recently the label.
2015 sees De Santis begin a brand new collaboration with Morphine label head and electronic music producer Rabih Beaini, where De Santis returns to his roots as a percussionist for the first time in years.
---
Daniele De Santis is supported by CTM Festival's Berlin Current initiative.