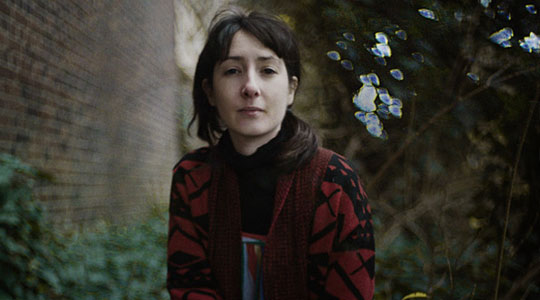 Kathy Alberici (Small but Hard, Drum Eyes) inhabits a tingling space between noise, soundscapes, and drone. Working with strings and analogue synth, sound is manipulated, recycled, and deconstructed to reveal its many faces. From nothing comes something, the imperfections, the Dreck becoming its own musical element in a complex weave of reflexive feedback.
Following intensive classical violin training throughout her childhood, Kathy launched into a chaotic journey through jazz and noise music that led her to the experimental underbelly of Brighton, UK, and more recently, Berlin.
In addition to an active performance schedule in Berlin and Europe, Alberici has released music independently and in collaboration with numerous musicians. She is best known for her role in psychedelic kraut-doom outfit, Drum Eyes (Upset the Rhythm), and her collaboration with Jan St Werner in his electronic opera, Miscontinuum (Thrill Jockey). Her solo work as Bocca al Lupo yields evocative "sonic portraits" which are 100% analog and twine hallucinatory string and synth shivers and loops around grainy, industrial skeletons.
Live Kathy is joined by visual artist, Federico Nitti, who manipulates code, electronics, and live video streams to produce a synaesthetic universe of colour and motion.
---
Kathy Alberici is supported by CTM Festival's Berlin Current initiative and is one of the artists featured through the SHAPE platform, which is supported by the Creative Europe Programme of the European Union.