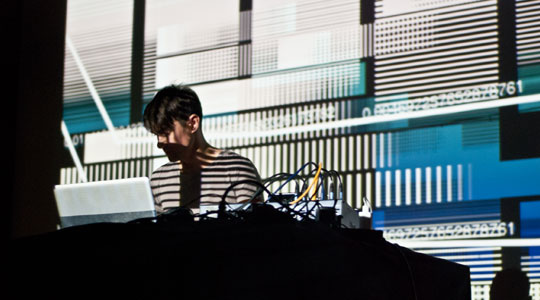 Olaf Bender, aka Byetone, co-founded the original Rastermusic label with Frank Bretschneider (Komet) and co-owns its evolution, raster-noton with Carsten Nicolai (Noto). Bender produces dark, visceral digital sound and visuals filled with noise and distorted melodics, combining a designer's attention to symmetry with a lust for the shamanic.
Bender (1968) was born in Chemnitz and was involved in experimental film work with 16mm movie equipment while still in school. His activities brought him into contact with East-German underground band AG Geige, of which he became a permanent member in 1988. He later teamed up with fellow ex-AG. Geige member, Frank Bretschneider to launch the record label Rastermusic.
Bender played a key role in raster-noton's visual aesthetic from the beginning, later joined by Carsten Nicolai and Ken Nibori. Their work is characterized by a singular design aesthetic that explores typography, colour, material, and form with a limited palette.
Bender's first solo release as Byetone was the May installment in the 20' to 2000 series on raster-noton in 1999, a twenty-minute CD of stark percussive patterns in the acclaimed CD magazine series. Several Byetone tracks were included on the 2002 Mort Aux Vaches raster-noton edition (staalplaat); his first full-length solo album, Feld, appeared in 2003, which was released on BineMusic and featured vocals by ex AG Geige member Jan Kummer.
2008 saw the release of Plastic Star, a noisy techno record that featured remixes from Sleeparchive and Dr. Walker. His acclaimed album, Death of a Typographer, followed soon after and ushered in a new period of live performance for Bender. Symeta (raster-noton, 2011), Bender's third album, stepped more deeply into gritty power electronics and away from the pristine, austere aesthetic raster-noton is known for.
Bender has also released music under the Lumen alias, as well as a series of projects as Signal, the trio that consists of all three raster-noton heads. In 2012, Alva Noto (Carsten Nicolai) and Byetone (Olaf Bender) started a new collaborative project called Diamond Version that operates at the cutting edge of digital funk.