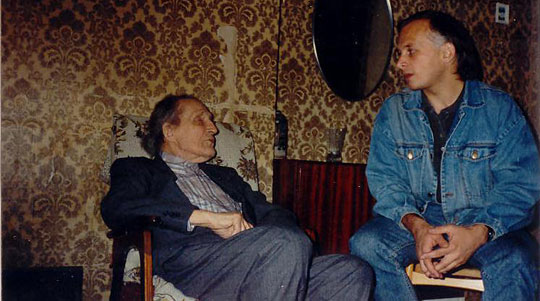 Andrey Smirnov is an interdisciplinary artist, curator, composer, educator, researcher, author, and developer of interactive computer music techniques.

His magnum opus, Generation Z, is an ongoing project with Lubov Pchelkina that is restoring the censored history of artistically utopian early 20th century Russia, much of which was destroyed by its collision with the totalitarian state of the 1930s. The project includes an exhibition, "Sound in Z", and the long-awaited book, Sound In Z: Experiments In Sound And Electronic Music In Early 20th Century Russia (Walther Koenig, 2013).
Smirnov is the founding director of the Theremin Center for Electroacoustic Music in Moscow. In 1992, he was invited to set up an experimental music studio at the Moscow State Conservatory. The studio became the Theremin Centre, further developed by a group of musicians and computer scientists under the leadership of Smirnov. He is also Senior Lecturer and head of the Conservatory's Media Technology department, and a lecturer at the Rodchenko School of Photography and Multimedia where he teaches courses on the basics of Electroacoustic Music and recent Computer Music technologies.
Smirnov has been involved in electronic music making since childhood when he collected whatever articles, magazines, and books were available to him in the Soviet Union. He later became assistant to a key Russian inventor, Andrei Volodin (who created the ecvodin synthesizer in the 50s), after a fortunate chance meeting. Through his position he gained access to extensive archives documenting the history of Russian musical acoustics and technology. After establishing the Theremin Center, boxes of archival material began arriving at the centre from others at the conservatory. In the following years, rare materials from private archives continued to be donated to the centre, giving Smirnov unparalleled access to a lost cultural history.
Smirnov has also developed many contemporary interpretations of Leon Theremin's classic electronic musical instrument, the most recent of which is a digital Theremin sensor, which uses an Arduino interface to communicate data from the Theremin sensors to software such as Pure Data and SuperCollider.